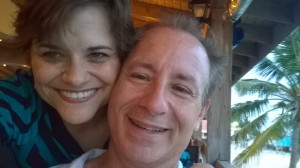 Many people, particularly divers, have urged us over the years to include Belize in our list of future dive trips.  Well, 2014 was the year!  Terra and I stayed at the SunBreeze Hotel on the island of Ambergris Caye for seven days.  Diving was provided Hugh Parkey's Dive Center, located on the grounds of the hotel, which was beachfront.  We did all our dives with them with the exception of the Blue Hole, which was through Ramon's Dive Village.  We had looked at Ramon's Dive Village as a potential place to stay when we were researching, but it was more expensive than SunBreeze.  However, when we were walking around doing some of our sightseeing we had an opportunity to see firsthand what Ramon's was like.  We also had lunch there.  If we go back to Belize we will definitely be staying at Ramon's.  If Gilligan's Island had turned upscale dive resort, Ramon's is what it would look like.
The diving around Ambergris Caye was very good, although visibility wasn't nearly as clear as Cayman or Curacao were.  And, apparently, it is normally much better, judging by the comments made by returning visitors.  Although for overall colorful variety of sea life Curacao is still my personal favorite, the opportunity to see a lot of sharks, turtles and eagle rays was hands-down better at Belize.  The most expensive dive on the trip was clearly Blue Hole, but it was absolutely worth it.  I was not going to make this trip without including the breathtaking dive on Blue Hole.  There were actually three dives included in the Blue Hole package, The Aquarium being one–and it lived up to its name.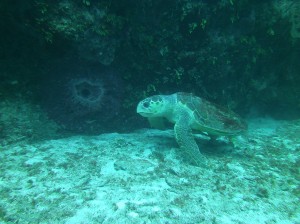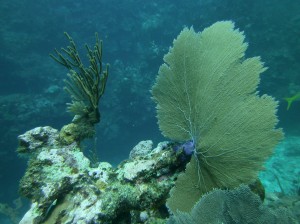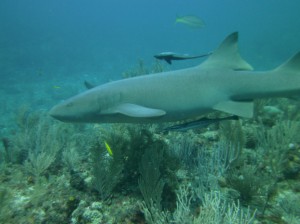 There is plenty of shopping to be done within easy walking distance, and the same is true of the restaurants.  All of the ones we visited were excellent and reasonably-priced.  A majority of the eating establishments in the San Pedro area are on the beach.  The common practice is to simply walk up and down the beach until you happen upon a restaurant you would like to try.  One thing we found particularly awesome was that most places had their menus conveniently posted in an attractive fashion on a walk-up billboard in front of the restaurant.  See something that tickles your fancy? Step right up and enjoy some of the local cuisine.  The shops along the adjacent streets are very closely packed and, as you might expect, a bit on the run-down side, but in most cases the staff are friendly and the products are the right value.  The exchange rate was 2 Belize dollars for each U.S. dollar.  By the way, if you're hoping to get a good deal on any dive equipment, you can give that thought up.  There's not a lot there since almost everything must be brought in from the Belize mainland, and most divers bring their own gear or rent from the dive operators.
Finally, we don't take these trips to spend a lot of time in the room, so having 5-star accommodations isn't our goal.  The SunBreeze wasn't the best place we've stayed, but it wasn't the worst.  The internet service is horrible on the island, so when we tried to do our second international video podcast of Two Guys Who Dive we simply couldn't get enough bandwidth to do anything other than execute a local-recording and upload it later (it is available on our YouTube channel).  Also, we're not big drinkers these days, but I'll try something unique if it looks good.  Such was the Horny Monkey.  Fantastic drink…you should try it.
In the end, we had an absolutely wonderful time, had fantastic diving, wonderful meals and good weather.  We highly recommend a 7-day trip to Belize if you can afford it.  To view a video of our trip just click here: http://youtu.be/PY20azxbjGI?list=UUymXvHTzNqRLiXM4g0CIejw