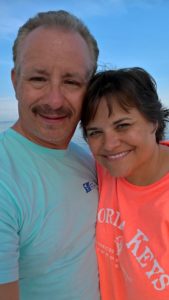 Since we didn't get to go on a trip in 2015 because we chose to renovate our kitchen, and we were too close to our passport expiration dates to be confident we'd get them back in time to go elsewhere, we decided to make our 2016 dive vacation another trip to the Florida Keys.  Quite honestly, there's just nothing like the Keys if you're on a budget and prefer tropical waters — which is pretty much us.  We've stayed on Key Largo a couple of times now, and decided to stay further out in the Keys this time.  So, after a bit of research, we decided Islamorada was our spot.
Our 7-day stay was at the Chesapeake Resort and we were very happy with the accommodations.  The rooms were nice, comfortable, well-maintained. Since you don't get a lot of natural beaches in the Keys (being largely mangrove-lined), the beach at the resort was welcome.  There were plenty of wonderful restaurants in the area, as well.
We dove with Key Dives, www.keydives.com, and couldn't be more pleased.  Mike & Marcia Goldberg absolutely took great care of us and made sure we had the best dive experience possible–and all at reasonable prices.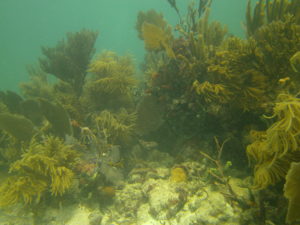 They have a nice special negotiated with Chesapeake Resort, too!  I will say that I feel we had more lush coral around Key Largo, and one of the dives really suffered because of weather and current bringing down the visibility significantly.  But it was still a great trip with plenty to see.  One thing I'm a huge fan of is wrecks, and there really aren't many around Islamorada, so you have to hope the seas and time allow for the trip out to them.  As it was, we again hit the Vandenberg, which we had dove on before, only one month after it was sunk as an artificial reef.  Still a beautiful dive–although this time the current was a bit stronger.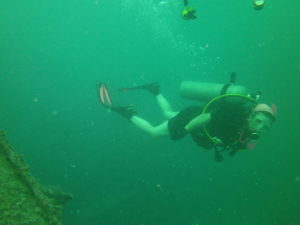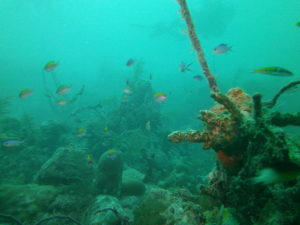 If you have been to Key Largo a number of times and want a little change of pace, some great diving, and a little quicker access to Key West without paying the higher cost, Islamorada is an excellent choice!  Enjoy the video highlights of the trip!