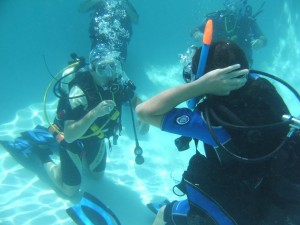 Although not official a part of the Del Rio Dive Club, scuba diving certification is available locally.  Robert Wade is a certified instructor with PADI (Professional Association of Diving Instructors), #234370, and has been teaching classes including Basic Open Water, Advanced Open Water, Rescue Diver and Divemaster since 2008.  An avid diver since 1985, Robert (aka ScubaDog) has consistently maintained the high standards of the PADI curriculum while keeping the classes fun and interesting.  His primary motivation for teaching scuba diving has always been to share wonder and excitement of the sport with anyone willing to try.  Classes are structured to give students plenty of self-study time and then maximizing value with the in-class and in-water portions.
The Basic Open Water course schedule for 2017 is as follows:
Apr 27-30 (Sign-up NLT 7 Apr); May 25-28 (Sign-up NLT 5 May); Jun 22-25 (Sign-up NLT 2 Jun); Jul 27-30 (Sign-up NLT 7 Jul); Aug 24-27 (Sign-up NLT 4 Aug); Sep 28-Oct 1 (Sign-up NLT 8 Aug). It is highly recommended you sign up sooner than the NLT-date because there may be delays in shipping of student materials, compressing the amount of time you will have to complete the workbook.
Basic Open Water classes are $325 per person or $425 for private instruction.  This price includes the student self-study workbook, dive tables (aka Recreational Dive Planner), logbook, instructional DVD, the formal instruction and use of a BC (buoyancy compensator), pressure gauge & dive computer console, tanks and weights.  If you choose to take the PADI eLearning course for the academic portion the cost for the class is $275.  Students must supply their own personal gear: wetsuit, boots, mask, fins, snorkel and submersible watch.  Students must also be able to swim 200 meters (any style or styles, not in a wetsuit) or 300 meters with mask and fins and tread water for 10 minutes.  After successfully completing all required course objectives students will be given a signed temporary certification card with their permanent card to arrive typically 2-3 weeks later.  Newly-certified divers are encouraged to dive as often as possible after getting certified in order to build more confidence in the fresh dive skills.
Prior to considering taking the course you should download the following documents: Things To Know and Standard Medical Statement.  The first document provides more depth and detail to the requirements of the course, format of the instruction and my personal notes.  The second document is a Medical Statement that you'll need to fill out.  In some cases you may find that a physician is needed to evaluate your specific condition and make a determination if it is safe for you to dive.  As always, if you have any questions feel free to contact me.
It is highly recommended that you contact us for a Discover Scuba opportunity if you are not sure that diving would be right for you.  These are typically free of charge and allow you to get basic familiarization with scuba while in a pool.  This will help you avoid wasting money and time on certification in the event you find you're unable to finish the course.  Finding out whether or not you would even be comfortable breathing underwater is an important aspect of diving.
For April/May classes: Amistad Lake is huge.  It takes many weeks of very hot weather to warm the lake up.  Be prepared to acquire a 7mm full wetsuit with hood, gloves and boots if you will be taking classes early in the season, where water temps will still likely be only in the 60s.