L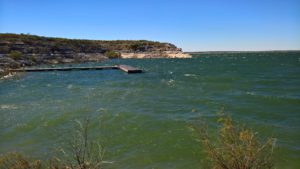 ake levels at Amistad are somewhat stable, and have been for a little over a year.  For a few years the level was low enough to open Spur 454 up and allow people to drive all the way out to the cliffs there.  This was actually a great place to shore dive because it allowed incredibly easy access.  However, the levels rose and the Park Service had to close it.  In the meantime, some improvements have been made by the Park Service to Scuba Cove, near Diablo East.
It's important to remember that Amistad Lake is a flood-control reservoir as its mandated function, which is why lake levels can dramatically change.  Water temperatures range from 50 during winter to 80+ in August.  Visibility can at times be deceiving.  Visibility is normally going to look better vertically through the water column than horizontally, so walking along the shore or looking down from a boat may give a false sense of clarity for diving.  Visibility can be as bad as 4 feet or as great as 30 feet.  Typically, it's about 15 feet.  Conditions that most often negatively affect visibility at Amistad: high winds, local precipitation (causing run-off), upstream precipitation (bringing sediment, etc., from the Rio Grande, Pecos or Devil's rivers), algae blooms (as water warms up, algae expands).
Above is a recent image of Scuba Cove, adjacent to Diablo East.  As you can see, there's a new dock, new buoys, and the winds were high.